RAUTE LVL PRODUCTION TECHNOLOGY
Creating agile solutions with the best equipment
Raute develops a complete range of machinery, systems, and technology to produce engineered wood.
More than half of the world's LVL is produced using the technology created by Raute.
What is LVL technology?
As higher demands for environmentally conscious choices continuously increase in the modern wood building industry, LVL (laminated veneer lumber) is becoming a good and dependable partner. Thanks to the engineered process, the wood becomes much stronger, adaptable, and more versatile than natural timber.
Raute is a pioneer of LVL production machinery. We are constantly developing even more accurate ways to master the LVL production technology. It all starts from an understanding of wood as a raw material. Our optimized solutions extend to log handling, peeling, drying, grading, stacking, lay-up, pressing, and billet handling. Today, Raute is the only LVL mill supplier in the world offering solutions for all production phases.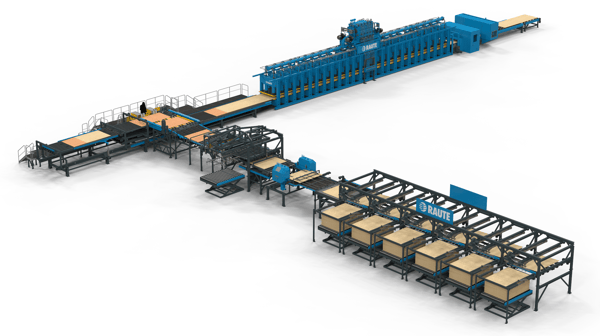 Key benefits of Raute LVL Line
Complete mill supplier
We have the machinery for every production phase. Raute provides you the whole package – machinery, software, training, and partnership.
Experienced partner
More than 50% of all structural LVL is produced using Raute's machinery. We have made ca. 40 LVL line deliveries around the world.
Efficiency and accuracy
We provide several gluing methods according to your needs, and our analyzers guarantee the strength of the veneer – always in an energy-efficient manner.
Get to know the LVL line
Raute develops a complete range of machinery, systems, and technology to produce engineered wood. From sawn timber to LVL, we have the production lines for every need, regardless of how big or small your veneer production needs are. We have developed our product line series to ensure you can find a solution that perfectly suits your capacity expectations, budget, and expertise. LVL procedures are highly analyzed to make your LVL as dense and sturdy as possible. Regarding veneer processes, Raute aims for highly energy-efficient productivity and accuracy. Take a look at our production line yourself!
Download brochure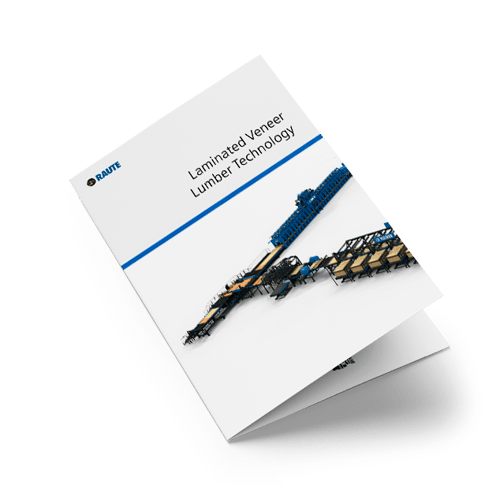 What is LVL good for?
LVL (laminated veneer lumber) is an engineered wood panel that can be produced in different lengths, thicknesses, and widths. It is made of thin veneersheets that are piled and pressed into a continuous billet of LVL. Because the flaws of the wood are evenly distributed, rather than being concentrated in specific places as in natural timber, the LVL's strength-to-weight ratio becomes exceptionally high. It is easily adaptable and allows quick installations.
The stable engineered wood product performs best in places where large open floor plans are required. LVL is an environmentally friendly choice, because it is manufactured from certified raw materials that also serve as a carbon store in buildings. Read more about what LVL has to offer.
Stable and straight
LVL is protected from shrinkage and swelling, which makes it dimensionally stable and accurate.
Durable
LVL is a dependable choice in structural design because of its durability.
Great strength-to-weight ratio
LVL has no sizeable defects, which makes its strength-to-weight ratio extremely high.
Download whitepaper: Optimizing plywood production through the full chain of grading