Modern plywood Mill
Maximize productivity and quality with digitalization
Data intelligence tools for veneer, plywood, and LVL production improve your production quality and accuracy. With data-driven production you produce higher-quality sheets, use less raw material and energy, and in the end, make more profit. Keep on reading to learn more!
Data-

d

riven

Veneer, Plywood, and

LVL

p

roduction
In veneer, plywood, and LVL production mills, the idea of using data to optimize production and enhance performance has evolved over many years. Professionals have discovered that different software-based add-ons increase profitability. Today they provide intelligence with precise accuracy and should be considered when thinking about how to perform better in today's increasingly competitive markets.

We produced a few documents to cover this topic. In the educational whitepaper, we discuss how data-based intelligence can improve production, what the transition from manual work to more automated work requires, and what effects it has on production. We also gathered the top benefits of data capturing in one article that you can find below.
What is intelligent veneer, plywood, and LVL production?
Download whitepaper: Optimizing plywood production through the full chain of grading
This whitepaper covers the fundamentals of intelligent veneer, plywood, and LVL production, as well as data gathering methods and hardware. It also discusses how improvements can be made using production data. Download the whitepaper here to learn the basics of intelligent data gathering and production in the veneer business.
What are the top benefits of modern data capturing?
Download the article: Top Benefits of Modern Data Capturing in Veneer Production
Modern data capturing in veneer production is one of the most recent developments in the industry. Intelligent production line analyzers, data-based software, and other production intelligence-gathering tools, as well as a change of work habits can lead towards more productive and efficient production. Download the complete article here to learn the benefits of transitioning towards modern veneer production.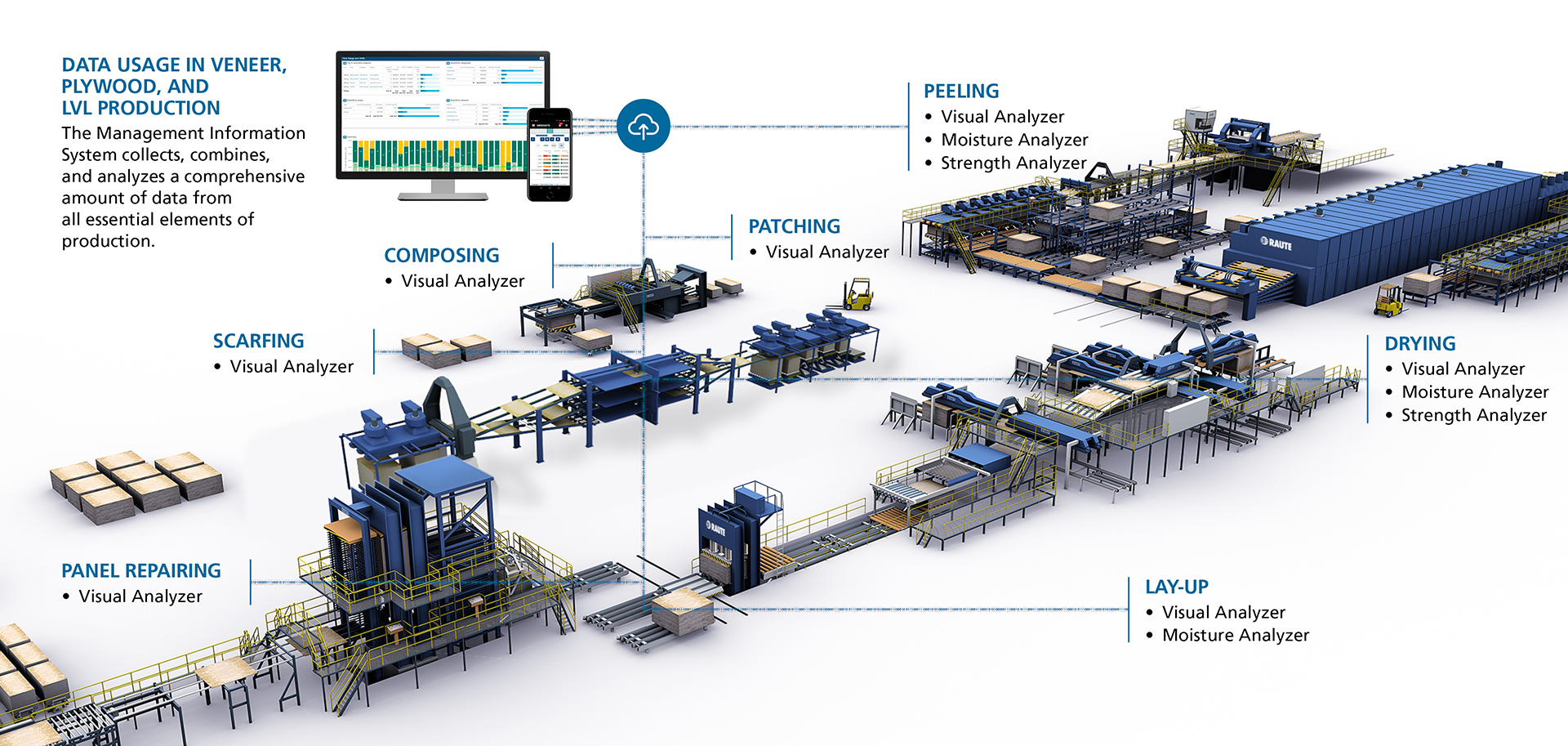 Your options in veneer production
Whether you want to start upgrading your production from the very start or you already have some knowledge about data-based production, we got you covered! From basic, manual production to Smart Mill, Raute is your partner. We are here to help you change the way you produce your veneer products.
Learn more about smart analyzers
LEARN MORE ABOUT RAUTE MILLSIGHTS
Reference: from major production challenges to increaced efficiency
The story about how a plywood mill producing
50 000 m³ of high-quality veneer annually overcame major production challenges and bottlenecks with Raute's solutions and increased their production efficiency at the same time. Download and read the whole story now!
Download whitepaper: Optimizing plywood production through the full chain of grading
Download the article: Top Benefits of Modern Data Capturing in Veneer Production
Download reference story
From major production challenges to increaced efficiency